Victor Pinchuk Foundation Held the 3rd Ukrainian Lunch on Margins of Munich Security Conference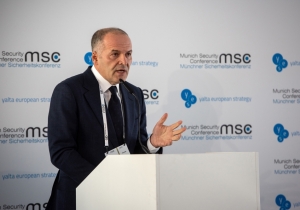 18 February 2019
On February 16, 2019, the Victor Pinchuk Foundation and Yalta European Strategy (YES) held the 3rdUkrainian Lunch in Munich, titled "Ukraine 2019 – Choices Ahead", on the margins of the Munich Security Conference. It focused on the challenges ahead of Ukraine in a year of presidential and parliamentary elections.
Kersti Kaljulaid, President of Estonia, Chrystia Freeland, Minister of Foreign Affairs of Canada, Kurt Volker, U.S. Special Representative for Ukraine Negotiations, and Pavlo Klimkin, Minister of Foreign Affairs of Ukraine, were among the speakers. The event featured contributions from two Ukrainian presidential candidates, Yulia Tymoshenko, Leader of the political party Batkivshchyna, and Anatoliy Grytsenko, Leader of the Civic Position party. Chairman of the Munich Security Conference and member of the YES board, Ambassador Wolfgang Ischinger, also spoke at the event, as well as Ben Hodges, Commander of the U.S. Army in Europe (2014-2017), Anders Samuelsen, Minister of Foreign Affairs of Denmark, and U.S. Senators Bob Casey, member of Democratic Party and Roger Wicker, member of Republican Party. Stephen Sackur, Presenter of HARDtalk on BBC World News moderated the debate.
Opening the event, Victor Pinchuk, businessman, philanthropist and founder of YES, said: "It is so important for Ukraine to feel the support of our international friends. And you, our international friends, are right to feel the importance of Ukraine, because the challenges that we face are your challenges. What we will allow to happen to Ukraine, can happen to you." He added: "The presidential and parliamentary elections in Ukraine must be protected against outside meddling by foreign actors, and inside, we must guarantee free and fair elections without any falsifications."
Wolfgang Ischinger, Chairman of Munich Security Conference and member of YES Board said: "I am really proud of our tradition to offer the Munich Security Conference as a platform for discussion of Ukrainian issues. I think, this has been an important contribution to making the western world aware of what was actually going on. Your country has a surprisingly and admirably active and young civil society and young political elite. This is a hugely important asset of Ukraine and we should all make efforts to play this up." He added: "I think that if the Ukrainian candidates both from the government and opposition sides can manage to produce a decent free and fair election process, you will make the biggest possible gift to yourself."
President of Estonia Kersti Kaljulaid stressed in her opening remarks: "Ukrainians are quite confident that they want to move to the West, but Ukraine should be moving quicker. How to move? It sounds pathetically simple: nothing else but rule of law, fight with corruption, free media, equal treatment of all capital in the country, economically even playing field for everybody can do these things for any country. Whoever will be responsible for the future of Ukraine cannot do anything for Ukraine before Ukraine is a country of rule of law."
Speaking of this year's challenges of Ukraine, Leader of the political party Batkivshchyna Yulia Tymoshenko said: "We need to think and find solutions that will enable us, starting on the first day after the inauguration of a new president, whatever will be the name, jointly with the creative class that is capable of changing anything in Ukraine, to establish and implement a new architecture project of Ukraine. I call on everybody to establish a national team and involve our international friends who care about Ukraine, and to give it an architecture plan that will enable us to give a new drive for the development of our country."
Leader of the Civic Position party Anatoliy Grytsenko noted that "the Russian Federation is currently the main threat to peace and security. It is now a key factor of destabilization in the world." He also underlined that "only when Ukraine has peace and a peaceful sleep that there will be peace in Europe and it will have a peaceful sleep… Ukraine is not a beggar of security; Ukraine is a contributor to security. We deserve to be supported in a difficult situation. And we are willing to continue making our contribution to the global and European security." The first priority now is "with joint efforts to force Russia to release all hostages, our boys and girls, whom Russia holds captive for years," Anatoliy Grytsenko added.
Minister of Foreign Affairs of Canada Chrystia Freeland commented on the elections in Ukraine: "The most important thing that we can do is help Ukraine ensure its elections are free and fair and without an outside interference. That is a big foreign policy priority for Canada. Only Ukrainians are going to choose who runs the country, and is the right thing. What we as friends of Ukraine can do is help the Ukrainians have free fair elections without outside interference and after the election, assert to the world that Ukraine really is a democracy."
For the third time, the Ukrainian Lunch in Munich served as a platform where global and Ukrainian decision makers discuss questions of Ukraine's security and its implications for Europe and the international order. Among previous speakers had been Robert Gates, David Petraeus, and David Lipton.
Over the past five decades, the Munich Security Conference (MSC) has become the major global forum for the discussion of security policy. Each February, it brings together more than 500 senior decision-makers from around the world, including heads-of-state, ministers, leading personalities of international and non-governmental organizations, as well as high ranking representatives of industry, media, academia, and civil society, to engage in an intensive debate on current and future security challenges.
←

Back to news list