The EU has proven its durability, – Jose Manuel Barroso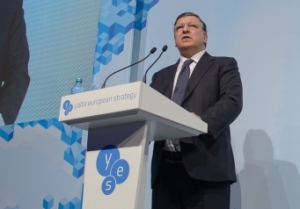 12 September 2014
The European Union has proven its durability by increasing the number of its members even in the times of the financial crisis, said President of the European Commission Jose Manuel Barroso, the featured guest of the 11th Annual Meeting of the Yalta European Strategy (YES), during his evening speech in Kyiv.
"Since 2004, when I started my activity at the European Commission at this position, there had been 15 countries, and today, we have 28 countries – so, this means that in the middle of the financial crisis, the EU has doubled the number of the member States. This may show that the European Union is durable. Who is doubting that is wrong", said Jose Manuel Barroso.
The European Commission President added that the cynics who think that the disintegration forces are stronger than the integration forces are wrong.
Jose Manuel Barroso emphasized that the EU may offer love to Ukraine, as the country proved during the Maydan 2014 its pro-European ambitions.
Yalta European Strategy (YES) is the leading public diplomacy platform in Eastern Europe to develop strategies for Ukraine and Wider Europe and promote Ukraine's European integration. YES was established in 2004 by Ukrainian businessman and public figure Victor Pinchuk and is led by a distinguished board including President of Poland (1995-2005) Aleksander Kwasniewski, former Secretary General of NATO (1995-1999) and EU High Representative for Foreign and Security Policy (1999-2009) Javier Solana, and others.
The 11th Yalta European Strategy (YES) Annual Meeting will be streamed live at yes-ukraine.org in English and Ukrainian.
The official Twitter of the 11th YES Annual Meeting: @YES_Ukraine, Hashtag: #YESUkraine2014
Special Partners of the 11th YES Annual Meeting include:
DTEK, ALFA-BANK (UKRAINE), BURISMA HOLDINGS
Partners of the 11th YES Annual Meeting are:
SHELL, INTERNATIONAL RENAISSANCE FOUNDATION
Media Partners of the 11th YES Annual Meeting are:
ICTV, UKRAYINSKA PRAVDA, NOVOYE VREMYA STRANY (NV), ERA FM
←

Back to news list