Economic problems in Argentina, Turkey will not cause global financial crisis - Bill Ford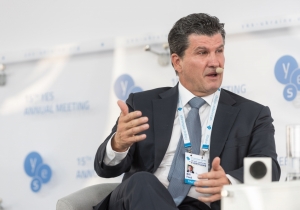 14 September 2018
Economic problems Argentina and Turkey have been experiencing will not lead to a global financial crisis, General Atlantic CEO Bill Ford has said in his speech at the 15th Yalta European Strategy (YES) Annual Meeting "The Next Generation of Everything", organized by the Victor Pinchuk Foundation.
"I do not think this is going to be as catastrophic as the last few emerging market crises. Their central banks are off the track, creating real fear among investors. And that cascades on itself. However, it does appear right now that it is staying relatively contained to Turkey and Argentina… I do not want to be an eternal optimist but I have a sense that is not going to cascade the way the last ones did," Ford said.
With regards to the European market, Ford believes it continues to be attractive to investors, above all, thanks to its political stability and rule of law.
"We continue to find great opportunities in Europe. There are a few good reasons for this. First, its the rule of law and very investable geography. It has a very educated population that does innovate. Maybe, not on the scale we see in places like China, Israel and the USA. One of our most successful investments is a credit card processing company, a global leader which serves Uber, Airbnb, Facebook. We can find very good opportunities in Europe," he said.
Ford noted that his company is also looking at Ukraine, in particular its IT sector. In his opinion, the progress displayed by Ukraine in holding reforms and its macroeconomic stability make the country more attractive to international investors.
"We do not have any investments in Ukraine now but we are evaluating one of the IT services. Judicial reform and the fight against corruption are things that really instill confidence in investors, but there is also the legacy of the country's history. Very strong academic capability in science, math and engineering. That will no doubt create a base of talent to create new businesses. I expect we will see entrepreneurship in that area," he concluded.
The official Twitter handle of the 15th YES Annual Meeting is @yes_ukraine, and participants and followers can include the hash tag: #YESUkraine2018
Partners of 15th YES Annual Meeting:
Arawak Energy, Hillmont Partners, lifecell, International Renaissance Foundation, Western NIS Enterprise Fund (WNISEF).
Media partners of 15th YES Annual Meeting:
Dzerkalo Tyzhnya (DT.UA), European Pravda, ICTV, Liga.net, Novoye Vremya Strany (NV), PRYAMIY Channel, Radio NV, The Kyiv Post.
←

Back to news list