Trust is the guarantee of a happy society – President of Finland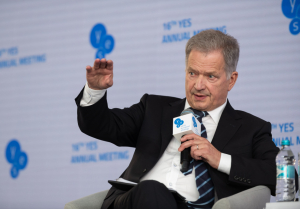 13 September 2019
President of Finland, Sauli Niinisto, says he believes the two most important elements in building a strong and happy society are that every citizen trusts the others, and the state, and that each person feels a sense of belonging. The President, whose country regularly tops the 'World Happiness Report' expressed this view during his speech at the 16th Yalta Europan Strategy (YES) Annual Meeting, "Happiness Now. New Approaches for a World in Crisis", taking place in Kyiv this week, and organised by the Victor Pinchuk Foundation.
"Even the best constitution is not enough to guarantee the due functioning of the state. A constitution only sets a framework for the existence of society, but the framework needs to be filled with content. This content must be provided by society, the people, who assume responsibility. In my view, there are two key characteristics of Finnish society: the first is trust, citizens trusting each other to do the right thing, and second, is a sense of belonging, or sense of involvement", he said. Underlining that these two elements imply citizens' realising not only their rights, but also their duty to always respect the rights of others,
Sauli Niinisto stressed that he is proud of the fact that Finland has been topping the ratings of the World Happiness Report for several years.
Translating the achievements of Finnish society to the global context, the President of Finland said that international cooperation also needs to be built upon the principle of trust.
"The best international treaties and institutions will not suffice to build a sustainable global society. These frameworks and outlines need to be filled with content, and our duty as nations, and as global citizens, is to do that. Unfortunately, at present, we are not doing a good job: we are observing the growing number of global challenges which require comprehensive joint responses, but right before our eyes, the international order is crumbling – with confrontation gaining the upper hand over cooperation", Sauli Niinisto added.
←

Back to news list