Peace can only be achieved with willing partners – Tony Blair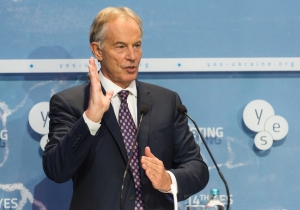 16 September 2017
Peace can only be achieved if all parties involved want peace, the former Prime Minister of the United Kingdom (1997-2007) Tony Blair believes.
"Peace may be achieved only with those who want it: with people who do not view negotiations as a trick or a gambit or a way to buy time in order to prepare for the next phase of conflict", Blair said during the Shimon Peres Peace Lecture at the 14th Annual Meeting of Yalta European Strategy (YES) organised by the Victor Pinchuk Foundation.
"When you look at the resolutions submitted by Russia to the UN, it is important to understand whether it comes from a partner who seeks reconciliation or it is a tactical maneuver?" he cautioned. "Partnership needs to have strategic depth in order to last", he continued.
Another crucial condition to establishing peace, according to Blair, is fair principles both parties and a fair organisation and structure going forward".
The former Prime Minister of the United Kingdom also stressed: "we make peace with enemies, not with friends" before suggesting that the peace process is always difficult as it is not made between politicians but between people.
The online stream of the Yalta European Strategy (YES) 14th Annual Meeting will be available online at yes-ukraine.org as well as on the websites of our media partners, in both English and Ukrainian.
The official Twitter of the 14th YES Annual Meeting is @yes_ukraine, and participants and followers can include the hash tag: #YESUkraine2017
←

Back to news list