Dmytro Razumkov: New politicians have a chance to change country, but time is short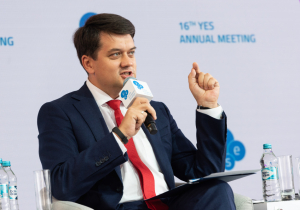 14 September 2019
The new politicians have a chance to change Ukraine's life for the better, but they do not have much time to make changes, stated Dmytro Razumkov, Chairman of the Ukrainian Parliament at the 16th Yalta European Strategy (YES) Annual Meeting, "Happiness Now. New Approaches for a World in Crisis," organised by the Victor Pinchuk Foundation.
"The main mission that I set for myself and that I hope the newly elected parliament is setting for itself, is to make Ukraine happy (…) For many of those who have been elected to parliament for the first time, this is their first chance to change the country, but for the country, this chance may be the last one. Therefore, we must benefit from it," he said.
Dmytro Razumkov also called on all political forces to make constructive joint efforts for change. "We understand that today is not the right time for political argument, we have no time for political fights. We have only a very short time to achieve the transformations that our society aspires to so much," he concluded.
←

Back to news list