Sanctions worsen crisis in Iran – US relations – former premier of Qatar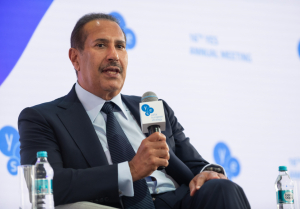 13 September 2019
The effect of sanctions led to the worsening of the crisis in Iran-US relations, Sheikh Hamad bin Jassim bin Jabor Al Thani, Qatar Prime Minister (2007-13) and Qatar Foreign Minister (1992-2013), said today in Kyiv.
"Iranians suffer financially, however, under pressure they will stay united. They have many neighbouring countries, today it is not possible to "plug" Iran. One can keep the oil away from the sea, but the trade between neighbours will continue. Given that, I believe the gap between Iranians and Americans is going to be even wider if Iranians continue to suffer. A dialogue is needed to put an end to this", former prime minister Sheikh Hamad bin Jassim bin Jabor Al Thani said during his speech at the 16th Yalta European Strategy (YES) Annual Meeting, "Happiness Now. New Approaches for a World in Crisis" organised by the Victor Pinchuk Foundation.
Sheikh Hamad bin Jassim bin Jabor Al Thani said also that Qatar-Iran ties are not easy, but that there's a constructive dialogue between the countries. "I do not 100% support Iran's policy, however in Qatar we have normal relations with Iranians. Iran will always remain our neighbour, we have a political and economic dialogue which needs to be maintained. There should be more productive, wise, dialogue to ease this tension in the region", he said.
Sheikh Hamad bin Jassim bin Jabor Al Thani believes that Ukraine and Russian should also base their relations upon dialogue. "I do not want to interfere with Ukraine-Russia relations, but the situation in Ukraine is similar. Ukraine and Russia will always remain neighbours. You do have support from Europeans and Americans, but in the end, Ukraine will have to find its own way to resolve the issues in a peaceful way through a political dialogue", he finished.
←

Back to news list