Democracy is Ukraine's strategic asset – Sikorski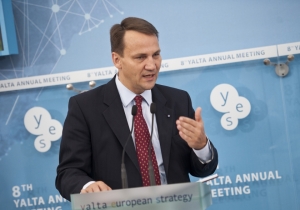 17 September 2011
The European Union is close to entering into an association agreement and a free trade agreement with Ukraine, Radoslaw Sikorski, Minister of Foreign Affairs of Poland, the country holding presidency of the Council of the European Union (July – December 2011), declared during the discussion "Eastern Europe and the Role of Ukraine" at the 8th Yalta Annual Meeting of YES.
He expressed his hope that the agreements may be signed as early as September, at the Eastern Partnership Summit in Poland. And Radoslaw Sikorski accented that some political issues, which are "especially sensitive for EU member-states", should be reconciled. The Minister warned Ukraine not to make two mistakes on the European integration path. "Don't think that your geographic position, which is undoubtedly important for Europe, entitles you to ignore the basic European principles. You are to follow them if you are willing to join the European community. The second mistake is - don't think that integration into Europe means rupture of relations with Russia, and you are to choose between the EU and Russia," Radoslaw Sikorski said citing Poland as an example. During the period of accession to the EU and NATO, Poland was active in improving its relations with Russia.
However, according to Sikorski, it is important for Ukraine to maintain and strengthen democracy. "Ukraine is perceived as a free and democratic country – this is your strategic gain, your strategic asset. If you associate yourself with Europe, we would not restrain you and perceive as a country like Belarus, we would perceive you as a democratic country."
Sikorski expressed his hope that the summit would provide the opportunity to make "clear and strong" declarations on the matters that would define development of the EU-Ukraine relations in the short term. "Poland is in the front row among the advocates for a visa-free regime for Ukraine". Sikorski admitted that the visa regime for Ukrainians in Europe many years after visas for Europeans in Ukraine were cancelled was "a big disappointment". "However, the European Union may take only unanimous decisions on visa matters. If everything depended on us (Poland), the visas would have been already cancelled. That is why I am eager that Ukraine comply with the technical conditions. The liberalized visa regime is worth it.
The 8th Yalta Annual Meeting entitled "Ukraine and the World: Common Challenges, Common Future", organized by the Yalta European Strategy (YES) in partnership with the Victor Pinchuk Foundation, takes place in Livadia Palace, Ukraine from 15th to 18th of September 2011.
Special Partners:
Alfa-Bank Ukraine
TNK-BP
Partners:
Visa Inc.
International Renaissance Foundation
ONUR
Communication Partner:
Kyivstar
Media Partners:
Euronews
ICTV
Korrespondent magazine
Korrespondent.net
ERA FМ
←

Back to news list