Let's Make Ukraine Great and Happy – Prime Minister Oleksiy Honcharuk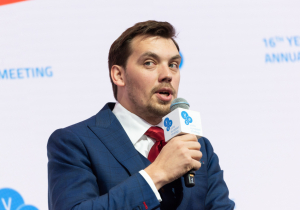 14 September 2019
The Ukrainian Cabinet of Ministers has plans for a series of systemic reforms to restore Ukrainian and foreign investors' confidence, said Ukrainian Prime Minister Oleksiy Honcharuck, speaking at 16th Yalta European Strategy (YES) Annual Meeting, "Happiness Now. New Approaches for a World in Crisis" organised by the Victor Pinchuk Foundation.
"The Cabinet's aim will be to make Ukraine as successful as possible. Today, I want to paraphrase President Trump: "Let's make Ukraine great and happy. Let's do it together!" Honcharuk said.
Honcharuk outlined ambitious plans for reforming the economy over the next five years.
"Our objective is to grow our economy by 40 per cent in the next five years, and yes, I do believe we'll achieve this. To make this happen, we'll need to meet a five per cent growth targets next year, followed by seven per cent growth consecutively after. We understand that some changes will be unpopular but they are really important transformational changes." Honcharuk said.
According to Honcharuk, Ukraine has plans to open the land market, break down monopolies, liberalise labour relations, resolve the unemployment problem and manage environmental protection. The Cabinet is going to present a programme to this effect to parliament in a few weeks.
"To become a rich country Ukraine needs economic growth and economic growth is linked to foreign investment. This requires investor confidence. I want Ukrainian big businesses to start investing again in Ukraine again. This is a very important signal for foreign investors," Honcharuk added.
Honcharuk also said corruption, hiding income and the shadow economy will have to become a thing of the past. "I want Ukrainians to finally have an opportunity to be themselves thus getting a chance to be truly happy. In my opinion, this is the main objective of the new Ukrainian Cabinet," Honcharuk said for the conclusion.
←

Back to news list