COVID showed international unity so far exists on Facebook only– Volodymyr Zelenskyy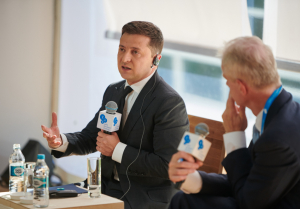 10 September 2021
COVID-19 pandemic has relieved that the international community is not prepared for uniting efforts to fight a global menace.
Ukrainian President Volodymyr Zelenskyy was speaking at YES Brainstorming "Post-COVID = Pre-disaster? Steps towards Survival", which has been organized by the Yalta European Strategy (YES) in partnership with the Victor Pinchuk Foundation.
"The world can overcome COVID-19, but we do not get herd immunity, as everything is decided at the individual level. The world speaks about unity for the sake of solving the issue of war, climate change, nuclear weapons, starvation, poverty. But it's all declarations, as the world is united only on Facebook", Zelenskyy said.
Zelenskyy added that the value of declarative equality became apparent from distributing vaccines between the nations.
"The virus proved every man for himself. This is the reality. It showed equality between the countries is one thing, distribution of vaccines is another. It showed a human life still has a nationality and passport. There are "more important" lives and "less important" ones", Zelenskyy said.
Zelenskyy also said that the world needs a genuine, not a declarative unity of efforts between the nations to combat new global threats.
"COVID also showed another thing: it can give equal rights to all, regardless of possession of nuclear weapons or GDP level thus hinting the world - you are all equal. Get united, as new lessons are going to be more frightening. Is this a disaster? I don't believe so. But it may turn into a disaster if the world does not draw conclusions from it", Zelenskyy said in conclusion.
←

Back to news list