To remain the global leader, the European Union should enlarge – Kwasniewski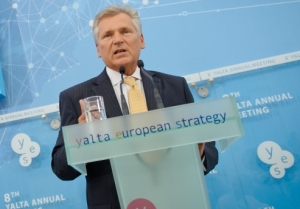 17 September 2011
Touching the changes in architecture of the global world order, Kwasniewski noted: "Nobody doubts that we are in the process which would build the world architecture in 21st century
Touching the changes in architecture of the global world order, Kwasniewski noted: "Nobody doubts that we are in the process which would build the world architecture in 21st century. Leadership of the USA has come to an end. The question who will play the main role in the future world remains open".
According to Aleksander Kwasniewski, the USA and China are most likely to lead the world. Roles of India, Brazil, Latin America as a whole, Russia will grow. "Many new centers will emerge. This is not bad, but this would be new. The new world will possess both good and bad traits."
Aleksander Kwasniewski places the European Union the third in the world of immediate future and believes that the EU has all chances to preserve its position. "The European Union as an integrated structure has a good chance to get "bronze" in this process. There is a fair chance that we would overcome the crisis."
At the same time, the Chairman of the Board of YES named several preconditions. The first is that the EU should become more consolidated inside its current borders, it should develop common policy not only in energy and security sectors but also common foreign policy, especially, towards new global leaders and players. "The second is future enlargement. Willing to get a bronze medal, we need 500 million experienced and well-educated people," therefore, Kwasniewski accented, all talks that the EU supposedly "got tired from the enlargement" should be stopped.
The 8th Yalta Annual Meeting entitled "Ukraine and the World: Common Challenges, Common Future", organized by the Yalta European Strategy (YES) in partnership with the Victor Pinchuk Foundation, takes place in Livadia Palace, Ukraine from 15th to 18th of September 2011.
Special Partners:
ALFA-BANK UKRAINE
TNK-BP
Partners:
Visa Inc.
International Renaissance Foundation
ONUR
Communication Partner:
Kyivstar
Media Partners:
Euronews
ICTV
Korrespondent magazine
Korrespondent.net
ERA FМ
←

Back to news list