Think more of the future than the past, and act accordingly – Olafur Eliasson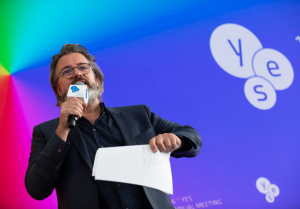 13 September 2019
People should focus more on the future, thinking about what is possible and evaluating their decisions, while looking forward, says artist Olafur Eliasson.
"Imagine having your children or grandchildren send you a letter from the future. And they, of course, telling you about what is going on in the future in this letter. Here are the answers to all of our questions. Why did we fail to find them when the time was right? … Think about what your kids would write to you? What would you write to yourself? Given that, how should we proceed for the next 50 years, what should we do about climate change and other challenges," he asked at the 16th Yalta European Strategy (YES) Annual Meeting, "Happiness Now. New Approaches for a World in Crisis", organised by the Victor Pinchuk Foundation.
Olafur Eliasson told the audience that this is the principle he tries to be guided by in his artistic activities.
"I really love this idea of asking the future. As an artist, I often think: am I really allowed to be driven by the past? It depends on us, especially younger people, to decide whether to be driven by the past or the future. The future is a source of inspiration and a clue to how to act today! " he summarised.
←

Back to news list