Andriy Kobolyev: ensuring gas transit is a matter of security, not just economy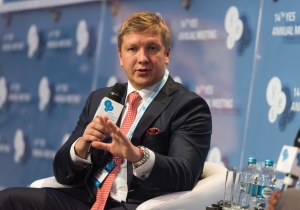 15 September 2017
It is strategically important to ensure gas transit not just for economic reasons but for containing Russia's further aggression against Ukraine, CEO of Naftogaz Ukrayiny Andriy Kobolyev said at the 14th Yalta European Strategy Annual Meeting, organised by the Victor Pinchuk Foundation.
"If they build Nord Stream 2 now, we will be in great danger not only from the economic perspective but also from the security perspective. I am convinced that this is one of the considerations Putin will take into account if he ever tries to capture the whole of Ukraine: What will happen to his gas exports to the EU? Will they stand a full-fledged war? And if the answer is no, and currently it is no, this is a deterrent," Kobolyev said.
He suggested that to assure gas transit, Ukraine needs to carry out a full-scale reform and involve European partners in the management of its gas transport system.
During the panel discussion, 66th US Secretary of State (2005-2009) Condoleezza Rice called Nord Stream 2 a threat to the sustainable development of Europe. "Nord Stream 2 is a problem. Were it a purely economic project, it would have been different but it is not so," Rice said.
Vitol President and CEO Ian Taylor urged Ukraine to focus on reforming its own energy system rather on Nord Stream 2. "You hate Nord Stream 2 but imagine that it is already here. You should not care about Nord Stream 2, you should deal with your own energy policy," Taylor said.
Vice-President of the European Commission for Energy Union, Maros Sefcovic, added that commercial interest in Nord Stream 2 among European companies is very strong, but said it is a priority of the European Commission to ensure continued gas transit across Ukraine.
The online stream of the Yalta European Strategy (YES) 14th Annual Meeting will be available online at yes-ukraine.org as well as on the websites of our media partners, in both English and Ukrainian.
The official Twitter of the 14th YES Annual Meeting is @yes_ukraine, and participants and followers can include the hash tag: #YESUkraine2017
←

Back to news list