Aleksander Kwasniewski: our goal is to see independent Ukraine in the family of free nations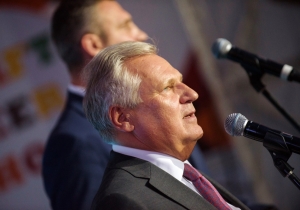 14 September 2017
Independent Ukraine with free people is the goal we should seek to achieve, the president of Poland (1995-2005) and chairman of the YES Board, Aleksander Kwasniewski, has said at the 14th Yalta European Strategy Annual Meeting organized by the Victor Pinchuk Foundation.
"For many years, the freedom of people has been the key issue on the agenda of YES. These days we will take this discussion further. Our wish, our dream and our aspiration is to see a free and independent Ukraine in the family of free nations," he said.
Kwasniewski added that the Bessarabsky Market, which hosts the YES opening ceremony, is a reflection of Ukrainians' aspiration for freedom no matter what.
"During the Soviet times, this small piece of land embodied freedoms and market economy. A small piece of capitalism in a huge ocean of communism… Today we take pleasure from looking at this unique market which embodies the energy of people who, despite someone's efforts to build centralized economy in a centralized stated, made sure that this place remains a true market," the Polish ex-president concluded.
The online stream of the Yalta European Strategy (YES) 14th Annual Meeting will be available online at yes-ukraine.org as well as on the websites of our media partners, in both English and Ukrainian.
The official Twitter of the 14th YES Annual Meeting is @yes_ukraine, and participants and followers can include the hash tag: #YESUkraine2017
←

Back to news list