Board of Yalta European Strategy (YES) met in Warsaw with Polish President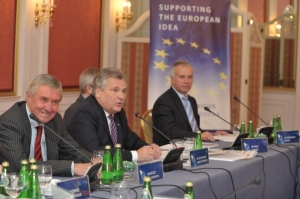 10 November 2010
The Board of Yalta European Strategy (YES) met with Polish President Bronislaw Komorowski, Minister of Foreign Affairs Radoslaw Sikorski and other decision makers in Warsaw on November 10, 2010.
The visit was organized at the initiative of the Head of the Board of Yalta European Strategy (YES) and President of Poland (1995-2005) Aleksander Kwasniewski and the founder of YES Victor Pinchuk.
The discussions focused on providing input for the Polish Presidency of the European Union in the second half of 2011. The Board of YES familiarized Polish officials with Ukraine's latest achievements in the political and economic field, conferred on the financial and administrative challenges and reforms.
"We look at Poland as a strong voice in the EU in favor of an effective Eastern policy and a champion for Ukraine's integration with the EU," said Victor Pinchuk, Founder and Member of the Board of YES.
Chairman of the Board of YES President Aleksander Kwasniewski added: "With the UEFA EURO 2012 Championship, Poland and Ukraine have a very important concrete common project ahead of them. The Board of YES will participate in the 'Ukrainian Lunch' on reform and modernization projects as part of the EURO 2012 preparation."
The Ukrainian Lunch will be organized on January 28, 2011 by the Victor Pinchuk Foundation in Davos during the World Economic Forum. President Kwasniewski also noted that the date for the next Yalta Annual Meeting has been set for September 15-18, 2011.
←

Back to news list