15th YES Annual Meeting: the headlines from day two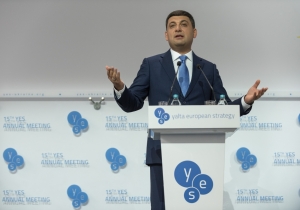 18 September 2018
We hear from Ukraine's Prime Minister, two Presidential candidates and Slava Vakarchuk Bono makes his first visit to the YES Annual Meeting and to Ukraine, tells our audience, "Don't agonise, organise"
600 Heads of State, politicians, economists, thinkers, and business leaders gathered at the historic Mystetlyk Arsenal in Kyiv, for the second day of the 15th Yalta European Strategy Annual Meeting.
Mindful of the upcoming Presidential elections, the YES team invited two candidates, Yulia Tymoshenko and Anatoliy Grytsenko, and a man much rumoured to be considering a candidacy, Slava Vakarchuk, to open the day's discussions.
Yulia Tymoshenko, leader of the political party "Batkivshchyna", spent her time confirming that she would never compromise Ukraine's borders, or tolerate any form of Russian control. She said, "We need peace, but not at the price of the capitulation of Ukraine. It's no good to offer Ukraine ways out which, somehow, turn certain parts of its territory into semi-Ukrainian areas, or to re-integrate them into Ukraine while remaining fully subordinate to the aggressor country. We cannot allow the slow acceptance of Crimea as a part of our aggressor. We need real peace." Ms Tymoshenko went further, and said that the country should return to the promises of territorial integrity and non-aggression agreed in the Budapest Memorandum, saying the country's government needed a reboot and a rethink.
In contrast, Anatoliy Grytsenko, leader of the Civil Position Party, and former Minister of Defence of Ukraine (2005-2007) said he believes building a successful Ukraine requires the effective protection of citizens' rights, freedoms and property. He said, "This State must not be a place where one person plants seeds in the soil and another comes and takes the whole harvest away, with the police watching and smiling. We cannot be a State where the Government requests an $2bn loan from the IMF while people are keeping much more cash under their mattresses because they are afraid of putting their money in a bank".
He continued by saying that in order to protect citizens' rights, his party would first concentrate on creating a fair justice system, and improving the anti-corruption bloc. "We must protect rights, freedoms and property… There is no democracy without a sound economic base", he concluded.
BBC Hardtalk presenter Stephen Sackur then pressed Slava Vakarchuk, co-founder of the Center for Economic Reforms, social activist and lead singer of Okean Elzy band, hard to tell the audience whether or not he would make a run for the presidency, to no avail. Whilst saying that he is ready to work for change in the country, and making the point that many of today's politicians have been "playing politics" for the last 27 years, the popular rock-star told Mr Sackur, "One of the things I love about show business is the ability to keep people in suspense".
Getting onto policy issues, Vakarchuk majored on reform of the justice system, saying, "Today, our courts are 'absolutely trusted' by one percent of population. Is this a normal situation?! And, plus or minus a small amount, only seven percent of the population 'more or less' trust them. Given this, do you think the old judges have any moral right to chair the reform of the judicial system, is there any sense in this?"
As is tradition, attendees were treated to a surprise appearance from a high-profile guest, this year Bono, who made his first visit to Ukraine to speak to the YES Annual Meeting about his work with One Campaign, Red, and impact investing. Asked his opinion of the European project, the global superstar said, "I think the European project is a romantic idea. Unlike the US, which created Hollywood to continue to promote the romantic idea of the American dream, the EU has not been good at telling stories about its achievements. Artists like us can help change that - that's why we've started playing against a backdrop of a huge European flag. And our audience is responding, some bring their own flags too."
Questioned by Fareed Zakaria, host Fareed Zakaria GPS, CNN, about what he thought people anxious about the changes they see in the world should do, Bono said, "Don't agonise, organise."
Some other headlines coming out of the second day's discussions include:
"We analysts, do not think that North Korea will abandon its nuclear weapons, no matter what Donald Trump says, precisely because of the failure of the signatories to the Budapest Memorandum to keep their word to Ukraine."
Richard N Haass, President, Council on Foreign Relations
"The USA and the rest of Europe must not fall asleep and forget about the situation in Donbass. We have offered to send a UN special peacekeeping force to the region to bring stability and enable free and fair local elections, we are waiting for a response from Russia."
Kurt Volker, U.S. Special Representative for Ukraine Negotiations
"The probability that US President, Donald Trump, will be impeached, is about 20%".
Fareed Zakaria, host, Fareed Zakaria GPS, CNN
"The demographic crisis is as big a challenge as corruption for Ukraine. Research shows the population will shrink by another 8 million in 20 years."
Mustafa Nayyem, Member of the Parliament of Ukraine
"Corruption kills more children than HIV or malaria - but there is a vaccine: transparency."
Bono
"If Africa fails, Europe cannot succeed".
Bono
←

Back to news list