President of Ukraine Viktor Yanukovych Met with the Board of Yalta European Strategy in Kyiv on April 11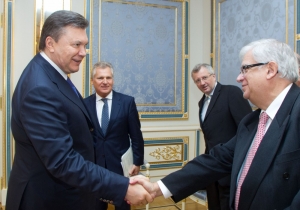 12 April 2012
During their visit to Ukraine on April 10-11, 2012, members of the Board of the Yalta European Strategy had a meeting with the President of Ukraine Viktor Yanukovych.
In Kyiv the YES Board was represented by Aleksander Kwasniewski, President of Poland (1995-2005), Chairman of the Board of YES; Mario David, member of the European Parliament, Vice President of the European People's Party; Victor Pinchuk, founder of YES; Marek Siwiec, member of the European Parliament; Jean-Pierre Saltiel, President of Rothschild Conseil International (1994-2004).
Speaking at the meeting the President praised the opportunity to discuss the agenda of the 9th Annual Yalta Meeting scheduled for September 13–15. He expressed confidence that this year's conference would be traditionally well-organized, rich in interesting discussion subjects and relevant as to the pressing problems of today. First of all, said Viktor Yanukovych, it comes to European integration topics in the context of "modern political realities."
The President also invited those present to visit Yalta during the May 11-12 18th Summit of Central European Countries, dedicated to the issues of European integration of the region. "We will be glad to see YES representatives at the Summit. Of course, the discussion will be result-aimed," he said.
During the meetings with Ukrainian officials, the Board of YES held a discussions with the Prime Minister of Ukraine Mykola Azarov, First Deputy Prime Minister of Ukraine Valery Khoroshkovsky and Minister of Economic Development and Trade of Ukraine Petro Poroshenko. They discussed reforms progress; importance of transparent and democratic parliamentary elections in Ukraine; effective structures of integration and cooperation to create a strong wider Europe in a globalized world. Also, activities of YES as a facilitator to support negotiations on integration processes and cooperation formats were explored.
Aleksander Kwasniewski, President of Poland (1995-2005), Chairman of the Board of YES: "To trust Ukraine it is very important to see how the elections are held, as we say - free and democratic. We've heard the President saying that he will do everything possible that the elections meet European standards".
Apart from the dialogue with Ukrainian government officials, members of the Board of YES met and discussed transformation processes and future of Ukraine with leader of the party "Front of Changes" Arseniy Yatseniuk, leader of the party "UDAR" Vitaliy Klitschko and Ambassadors of some of Ukraine's partner nations.
←

Back to news list